To build a software or application, there are a lot of business and technical decisions involved. The development of an idea after necessary market research itself is a painstaking process. Deciding whether a company should outsource software development or do it in-house can be equally painstaking. Based on our previous project experiences and some research, we present this article to our audience to better understand whether a company doing software development should choose in-house or outsource.
Firstly, let us understand the factors that has to be weighed in before making any decisions:
Finding the technical team

Time, money, infrastructure and other resources

Rent, equipment, software licenses and other administrative expenses

Taxes and other costs of software development

Hiring team effort and time associated with interviews, onboarding and training
To choose in-house or outsource for software development, all the above factors are resultant from two fundamental factors namely project requirements and objectives. On that note, let us have a brief understanding of the pros and cons of in-house and outsourced software development.
Advantages of in-house development
Company-fit:
Companies will have much more attention-paying teams if they are hired on a permanent basis. Their actions will be more result-oriented and motivation-driven. In-house team can perfectly sync with the company values and objectives.
Clear communication channel:
The communication channels will be unambiguous if the company has in-house development teams. Direct communications will assuredly avoid any misunderstandings and boost potency between the teams.
Change management:
When there are changes in project requirements, in-house teams can quickly pace up with the changes and incorporate it correctly in the project. This will ensure the happening of adding new features and discussing technical backgrounds promptly. Quickly managing changes means quicker bug fixes and better project outcomes.
Disadvantages of in-house development
High cost:
High cost is one disadvantage associated with in-house software development. It costs a comparatively lesser amount to cooperate with the vendor. Like already mentioned, the administrative and hiring expenses can cost you some amount.. Sick days, benefits and other additional perks given to employees are also cost-consuming factors affecting the company.
Workforce instability 
Developers will have the tendency to change their jobs because there is a high demand for skilled professionals in the market. When developers are offered better packages and working conditions, they might go for that option. This will put companies in situations where they have to find new software developers. Until you find the right developers, the project will possess the risk of either getting ceased or sluggish.
Inadequate technical experts:
The IT industry will never be low on the requirements of talented tech professionals. Finding the right talent and hiring them for different projects is a tough task for software industries. Even if companies find the right talent, the next challenge would be whether or not they will fit into their planned budget. This becomes harder due to the tough competition offered by competitor companies.
Some interesting facts: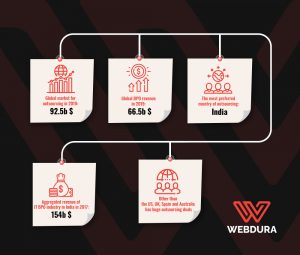 Advantages of outsourcing software development
Low cost:
Companies will have access to talent pools across the globe and most of them are at affordable prices. There are plenty of skilled teams in the western and eastern countries that companies can rely on to execute their software development process at less rates. 
Access to talent pools:
Comka kes will have access to experienced and talented professionals with global exposure. Hiring them is a plain sailing process for software industries. Your company will have access to limitless talent pools from which the company can filter the most appropriate talents for carrying out the software development process.
Scalability:
You can downsize or upsize the team velocity based on the tasks pending/completed in the pipeline. Scalability is one of the biggest advantages of outsourcing as companies can rightsize teams based on the task status. If there are no tasks, the companies can cut down the outsourced employees without any difficulties.
Quick project completion:
No time needs to be spent on recruiting teams and this is saving companies a significant amount of time. As projects demand, if your company needs faster project delivery, then there is an option to collaborate with more specialists through outsourcing. You pay only for the service of professionals availed. This is contributing fairly towards time to market expenses.
Access to technology pool:
You might be looking for a professional who is knowledgeable in a particular technology. In your region, such kinds of professionals may be lacking. Through outsourcing, you will have access to lots of qualified professionals around the world. This way outsourcing can ensure smooth traction of the software development process.
Why hire software developers at Webdura?
Webdura has offices in India with skilled workforce carrying out projects in different degrees. We have the time, infrastructure and dedicated teams to execute different software development projects. 
We have the following reasons to produce a to why hire software developers at Webdura:
Our team is proficient in English and can make the communication channel clearly expressed 

We can ensure that you are in perfect synchronisation with us in case if we work from locations of different time zones. The updates regarding the software development process shall be duly communicated by our team.

Webdura employees are trained in building applications and websites using futuristic technologies. We ensure that their knowledge and skills are consistently updated through different workshops, induction sessions and conferences.

We follow an agile approach for software development for ensuring the products we develop undergo a CI/CD approach. As per the requirement from the client, we also plot different project models like Kanban, and Waterfall among others.

Resource augmentation is critical for us and we align our team as per the clients work culture and project complexity.

Processes our software developers follow the seven most important components of SDLC namely analysis and planning, requirement gathering, designing and prototyping, software development, testing, deployment and maintenance.
Conclusion:
Choosing in-house or outsourced employees are purely based on company discretion. The nature of projects and technical backup needed are determinant factors of this decision. Outsourced software development services can cut costs, save time and utilise competent professionals. If you feel that your projects need some bail out of Webdura's outsourced services , you can always contact us here and our team will reach out to you in no time!
Thanks For Reading!
Sign up for our newsletter the monthly updates
How about a lil' game of fill in the blanks?
We love working alongside ambitious brands and people