Is software production the same as it was 10 years ago? Of course not! It has become more complex, with teams distributed all across the globe and that too with people specialized in specific segments of the software production process. How can your customer base expand and new users captured for your software? For gaining this edge, the UI/UX of your software is your strong point.
Agile has been a buzzword over the past years and so is Project Management Tool (PMT). In Agile, Project Management has been the accomplice, the methodology, which is used for collaborating, managing work-in-progress and ensuring product deliverance on time.
Agile project management software offers improved visibility, task delegation, and workflow automation of software product development lifecycle and this aspect has been a 'wow' factor for even the marketing and creative teams and not just the software developers and service teams.
Jira and Trello are two giant names that you might have come across during your software development journey. But which project management software is the right one for your project? Here are our recommendations and an unbiased assessment of the two best project management tools for your product development.
A glimpse of Jira and Trello
Surprisingly, Jira and Trello are owned by the same company i.e. Atlassian. Both Jira and Trello have gained immense popularity over the last few years, and even have a common subset of audiences.
Trello was added by Atlassian in 2017 and right from that point they had the virtue of associating within large technology companies alongside existing connections. This is an added advantage for Trello customers because they benefit from added Native apps which were once available only to Jira customers, improved API connections and a much bigger support team. 
What are the advantages or disadvantages of Trello and Jira based on systems and pricing, team collaboration, project management, project agility features and integrations that makes it suitable for your business? Here are some data that we would like to share:

Comparison of Jira and Trello
Certain organizations prefer cloud hosting and certain organizations like to keep their data within their network, whilst the fact that cloud-based project management tools have certain pros to it. If you wish to self-host or go for cloud hosting, Jira will be the ideal choice. For Trello, there is no option like self-hosting and the potential customers will have to compromise there. Therefore the bottom line of this is that Jira is the optimal solution for those who want to track the issues while self-hosting and not Trello.
There is no clear winner when it comes to pricing aspects of these two project management tools. Until September 2019, the key differentiators of Jira and Trello was their pricing plan. But it was then that Jira software introduced their free tier and before that companies had to pay 10$ for 10 members for the cloud-based version. You will have to pay 10$ per 10 members only once, if you choose self-hosting Jira software.
In Trello's free plan you can create any number of Kanban, tasks and collaborate with any of your team members. When it comes to integrations, the more capabilities you want on your Trello software, the more will be the price to be paid. The companies will have to upgrade their plans to 'Business Class' or whichever versions meet their requirements. 
Given below is the payment plan for Jira and Trello respectively: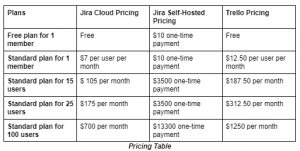 Pricing Table
Task Management and Team Collaboration
Project management has two supporting pillars- team management and team collaboration. Both Trello and Jira help you achieve what you need to achieve in its own unique ways.
Trello has all the ingredients like task creation, task delegation, setting time limits, notifications, moving cards with respect to the stages of completion in a Kanban, monitoring who is working on what and applying filters for quick search and everything needed for task management and team collaboration.
Jira software strictly adheres to agility when it comes to Task Management and allows you to customize workflows with the help of workflow builder and assign rules on how a card can be moved from one point or status to another. If you wish to show certain specific work items to selected audiences, there is a provision for that too in Jira's advanced setting. If not done rightly, this can create confusions and miscommunication among team members that we know is the least you want!
Agility is the quintessential factor of Jira software. It lets your team follow agile methodologies and the projects in Jira software supports both Scrum and Kanban. This means that you can use it either as a scrum tool with a scrum board or simply as a Kanban software.
Trello can be simple but it doesn't fully comply with Agile project management. Using the Kanban software tool, you will be able to push the work quickly, but Trello fails to have dedicated support for Scrum teams. Hence using Trello for Scrum can be a little difficult.  
Reporting developments, performance and a multitude of other metrics is important for making key decisions. Jira helps you to achieve that with the help of techniques like burn up and burn down charts, cumulative charts among others and helps you in overseeing exactly where the project is headed. 
Trello can help you only with procuring some basic information about your project and no out-of-the-box reporting techniques are available with Trello.
At some point of time you will need something out of your PM tool, like a code repository or slack required for your project through integrations. When you compare the power of Jira and Trello in terms of third party apps that it can connect with, then the former has around thousands of tools that can be integrated with than the latter. Both Jira and Trello have free access to public APIs for you to hit the endpoints and customize workflow.
Endnote: Is there a middle ground between Jira and Trello?
Trello is easy to use, but if you want to streamline your product development process then Jira will be the right choice. The biggest drawback of Trello is its inability to generate reports and insufficient dedicated support to run sprints. This will create a ruckus for project managers trying to keep the progress on track. 
Undoubtedly Jira has an upper hand especially when your concern is about complex project management workflows. But the tool is NOT an 'easy-to-use' kind and can at times steep the learning curve of employees familiarizing with the product, that in turn causes not being in-sync issues. Here is your final checklist to see which project management tool can be ideal for your business: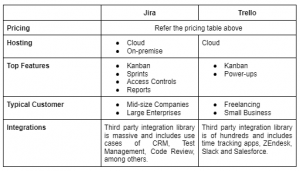 Thanks For Reading!
Sign up for our newsletter the monthly updates
How about a lil' game of fill in the blanks?
We love working alongside ambitious brands and people